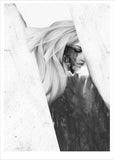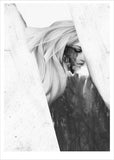 Description
Between Ages
---
30x40 cm er signert for hånd.
50x70 cm er trykket offset i begrenset opplag, signert og nummerert for hånd.
Teknikk/papir: Blyant -og kulltegning.
Digitaltrykk/offset trykk. 240 g/m tykt, matt designpapir. Den naturlige fargen i kombinasjon med den matte overflaten gir papiret et vakkert, autentisk preg. Papiret kommer fra Lessebo bruk i Sverige. Lessebo er kjent for sitt fokus på miljø og er en av de mest miljøvennlige papirprodusentene i verden. Alle trykk produseres og pakkes i Norge.
---
30x40 cm is signed by hand.
50x70 cm is printed offset in a limited edition. Signed and numbered by hand.
Technique/Paper: Printed on 240 g/sqm, matt, high quality paper "Scandia Natural". The n
atural shade gives that perfect off-white feeling of authenticity.
 The paper is made in Sweden in Lessebo Bruk. 
Lessebo Bruk ranks among the most climate-friendly manufacturers in the paper industry when it comes to carbon emissions
. All prints are printed in, and shipped from Norway.